rottnest snorkel experience tour
Step on board our comfortable 10m boat and join us for our 3-hour guided snorkelling experience tour!
With more than 400 species of fish – including 135 species of tropical fish, 20 types of coral and multiple shipwrecks for snorkelling – there is always more to see in the water at Rottnest Island!
Our highly experienced snorkelling guides will be there to lead the way as you swim in the crystal clear and calm snorkelling bays. 
Inclusive of all skill levels and ages, our snorkel tours welcome the whole family for a safe underwater adventure. As long as you can swim, you can snorkel with us! 
Our Rottnest Snorkel Experience Tour is the perfect way to see more of the island by boat and also get up-close and personal with the underwater locals. This interactive and educational tour is a must-do for all ocean lovers visiting Rottnest Island. 
01

the rottnest
snorkel tour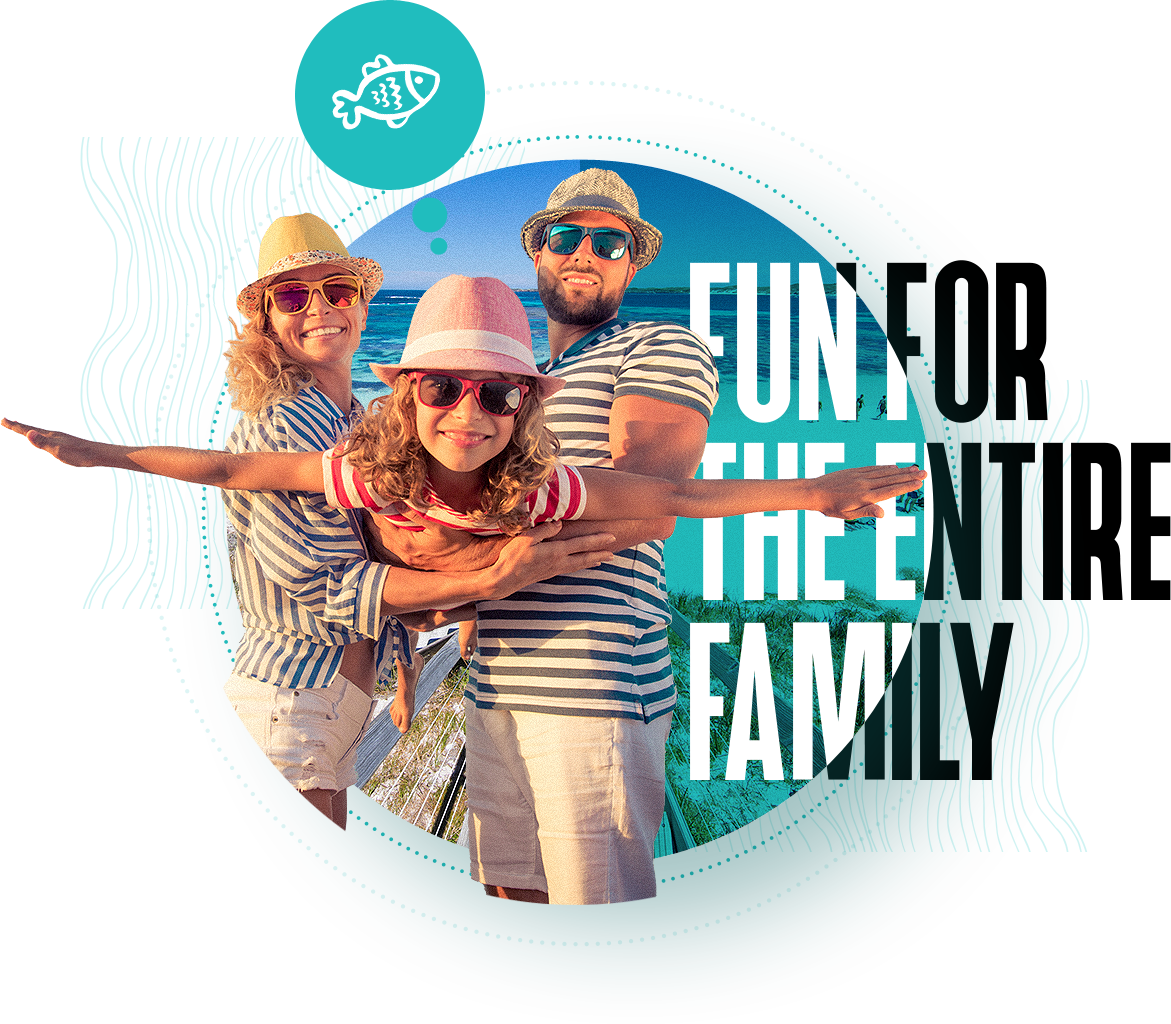 – Our tour departs at 10am, Fridays, Saturdays and Sundays. You'll need to meet at the Fuel Jetty in Thomson Bay 15-minutes before your booked departure time to collect any rental equipment you need for the tour.
– The fun begins when you step onboard our custom-built snorkelling vessel, a very stable and comfortable ride! As we cruise the shallow bays of Rottnest, our crew will share some fascinating stories and insights about Rottnest, so you can learn more about the island on your way out to the first snorkelling site. 
– You'll have two sessions of 45-minutes in the water, both guided by our qualified in-water snorkel guides, who carry additional flotation aids for less confident snorkelers to use. We also have flotation vests and pool noodles to use if desired. In between your snorkelling sessions, there will be light refreshments served as we relocate the boat to your second snorkelling site. 
– A short cruise back to the jetty will have you back on dry land and ready to finish your day at Rottnest Island within 3-hours of your departure time.
Want to learn the necessary and fun skills to safely snorkel, while enjoying one of WA's best snorkeling spots? Then this is the course for you!
This course is the most enjoyable way to learn how to snorkel, as you're guided through the amazing, protected bays at Rottnest Island to see colourful corals and exotic fishes up close – all while our qualified Snorkeling Instructors look after you and teach you the skills and techniques to safely snorkel. 
Perfect for kids (ages 6 and up*), families and anybody who wants to learn the correct skills and techniques to safely snorkel around reefs and coastlines. As long as you can swim, you can learn how to snorkel with us! 
*Children under the age of 14 will need to be accompanied by an adult.